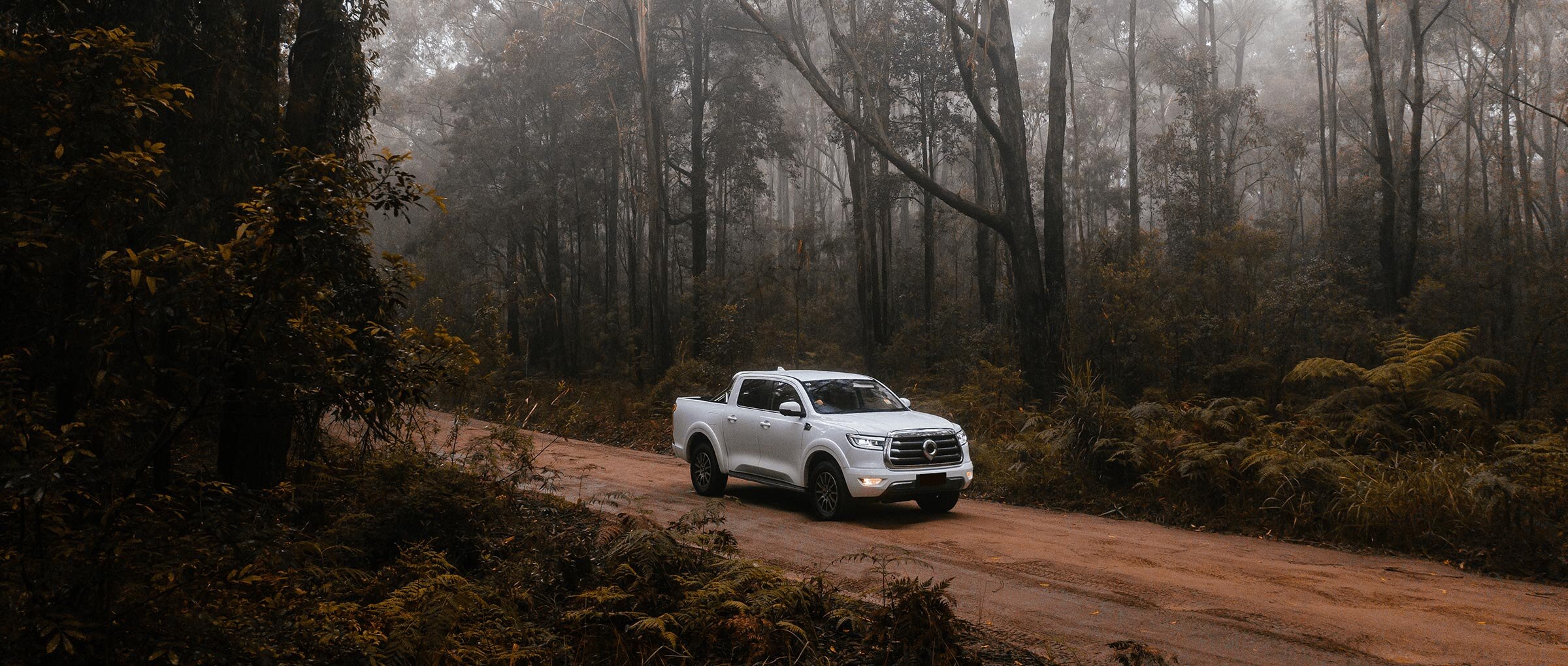 World class technology and value at an unbeatable price
The brand-new GWM Cannon has arrived at Northland Autos packed with luxurious comfort, world-class technology, and highly advanced safety features. According to overseas motoring journalists , the new GWM Cannon Ute "has the potential to shift perceptions and be a real game-changer ".
Recently named New Zealand Autocars Ute of the Year 2020, the new Cannon is unbeatable value
Unbeatable value and performance
Designed to suit the rugged New Zealand and Australian markets, the GWM Cannon is set to become a major player in the local market. It is Great Wall Motors answer to competing manufacturers and their pickup models such as Toyota HiLux, Mitsubishi Triton, Nissan Navara and Ford Ranger. It comes with a revised 2.0-litre, four-cylinder turbo-diesel engine producing 120kw and 400nm of torque. With the choice of an eight-speed German designed ZF automatic or a six-speed Getrag manual.
Measuring 5410mm in length, 1934mm in width and 1886mm in height, the Cannon is longer, taller and wider than Toyota's Hilux, and only slightly smaller than Ford's Ranger. It comes with a towing capacity of up to 3000kg and a payload of at over 1000kg.
Safety comes First
The GWM Cannon offers the perfect opportunity for Kiwis to experience off-roading in style at an incredibly competitive price. Inside GWM have included world-class technology including push-button start, a digital dashboard, leather trim options and advanced active safety such as Autonomous Emergency Braking, 7 airbags, blind-spot monitoring, active cruise and a 360-degree parking camera. In fact, the GWM Cannon is one of only two Utes to offer the 7th Centre Airbag to minimise driver injuries in a left-hand side collision. The other Ute is the Isuzu D-Max at approximately double the price. The 9.0-inch infotainment touchscreen features the manufacturer's very own intuitive automotive management software as well as Apple CarPlay and Android Auto.
Put together with the best of international automotive technology, the Cannon promises a safe journey wherever you go thanks to its world-class components. Enjoy 4WD and all-terrain technology manufactured by Borg Warner an internationally acclaimed German engineering company as well as Dynamic Stability Control developed on the icy roads of Sweden. The Cannon also comes with Lane Keep Assist, reading lane markings as you go and gently adjusting course to ensure you have a safe journey by staying in the proper lane.
Smooth and Impressive
Creating their latest Ute, Great Wall Motors has left nothing to chance. "Born tough, built smart", is the manufacturer's slogan. The Cannon convinces with versatility. It is a powerhouse for tackling even the toughest terrain while providing space and luxury all in one go.
The rugged wide-bodied look on the outside, is quickly forgotten once seated behind the leather bound, multi-function steering wheel. Underneath, independent front suspension paired with heavy-duty rear leaf suspension makes for an extremely smooth ride.
Unique among the one-tonne Utes in New Zealand is the Cannon's extendable step on the tailgate which makes access during loading and unloading a lot less challenging.
A promising future
The GWM Cannon is such an improvement on the previous Great Wall Steed that it feels like it has been made by a different company, and in a way it has. The Cannon has been designed and produced by Great Wall Motors Luxury SUV Division HAVAL and features many components from the luxury HAVAL H9. The company has come a long way since launching their first vehicle in Australasia back in 2009 as one of the first automobile producers from China.
With a ANCAP five-star safety rating and with more equipment than most of their competitors at a fraction of the price, the Cannon is already set to make it as one of the Top 3 pickups in New Zealand.